Welcome to Bethel AWANA!
AWANA has been a heritage of many believers for decades. Children of all ages have enjoyed the fun and games that lead them to know God, the Gospel and the Bible.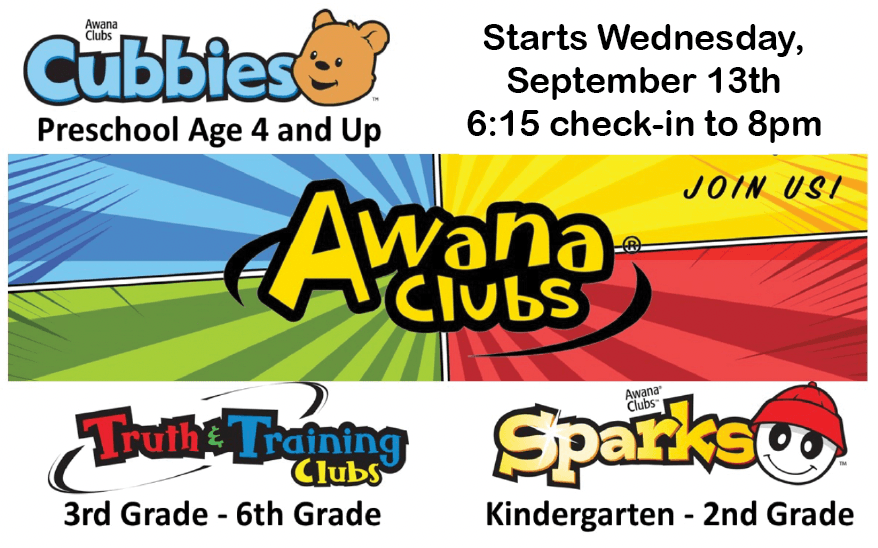 Cubbies | Sparks | Truth & Training
Cubbies - Preschool Age
Cubbies is a fun and interactive time for preschool-aged boys and girls! Cubbies spend time in a handbook written in a fun, storybook style lesson. The handbook is intended to offer parents and leaders an excellent resource for introducing the God of the Bible. Each Wednesday night the children get to learn verse, sing songs, have a snack, play games, and hear a story about God and the people of the Bible.
Sparks - K thru 2nd
Sparks ministry is for kids in Kindergarten through 2nd grade. Children spend time one on one with caring leaders as they learn verses and hear stories about God and His love for people. The night is divided into table time, game time, and lesson time, with songs and fun craft activities.
Truth & Training - 3rd thru 6th
Truth & Training, or T&T as we like to call it, is separated into Force for boys and Treasure Seekers for girls. This ministry is for 3rd through 6th grade. Children spend time one on one with caring leaders as they exam God's Word, learn verses, and talk about what they mean. The boys and girls have separate Table Times and Game Times. They then come together for Council Time, where they hear from men and women of faith who will challenge and help them grow and live out their faith.