Live Feed
You can also watch the live stream on our social media pages:
Announcements
Nursery now available downstairs in Room 22. Ask an usher for help finding your way.
Chili Feed to Go, Feb. 7 after the service. Details in the bulletin.
Want to give online? Simply go to www.betheljackson.org and click Give
For COVID-19 information, to receive help or if you want to help, please visit: www.betheljackson.org/covid-19
We are collecting for postage for Operation Christmas Child shoeboxes that will be sent out by Bethel. Mark OCC on the envelope or select the OCC Shipping fund when giving online.
Want to connect with others in a small group context? Check out our Online Groups!
Interested in starting an online group to help people stay connected and growing? Please contact Patrick@betheljackson.org
Please share the Facebook Live event on your personal page. You can get there by clicking here.
If someone you know doesn't have a computer or the internet, you can check out our new feature called TeleSermon. Simply call the church phone number 517-787-8612 and listen to the prompts. You can then listen to the most recent sermons right on your phone... regardless if it's smart or not!😂*Sigh*... we crack ourselves up... So spread the word! You never know who might be helped by this great new feature!
Sermon Notes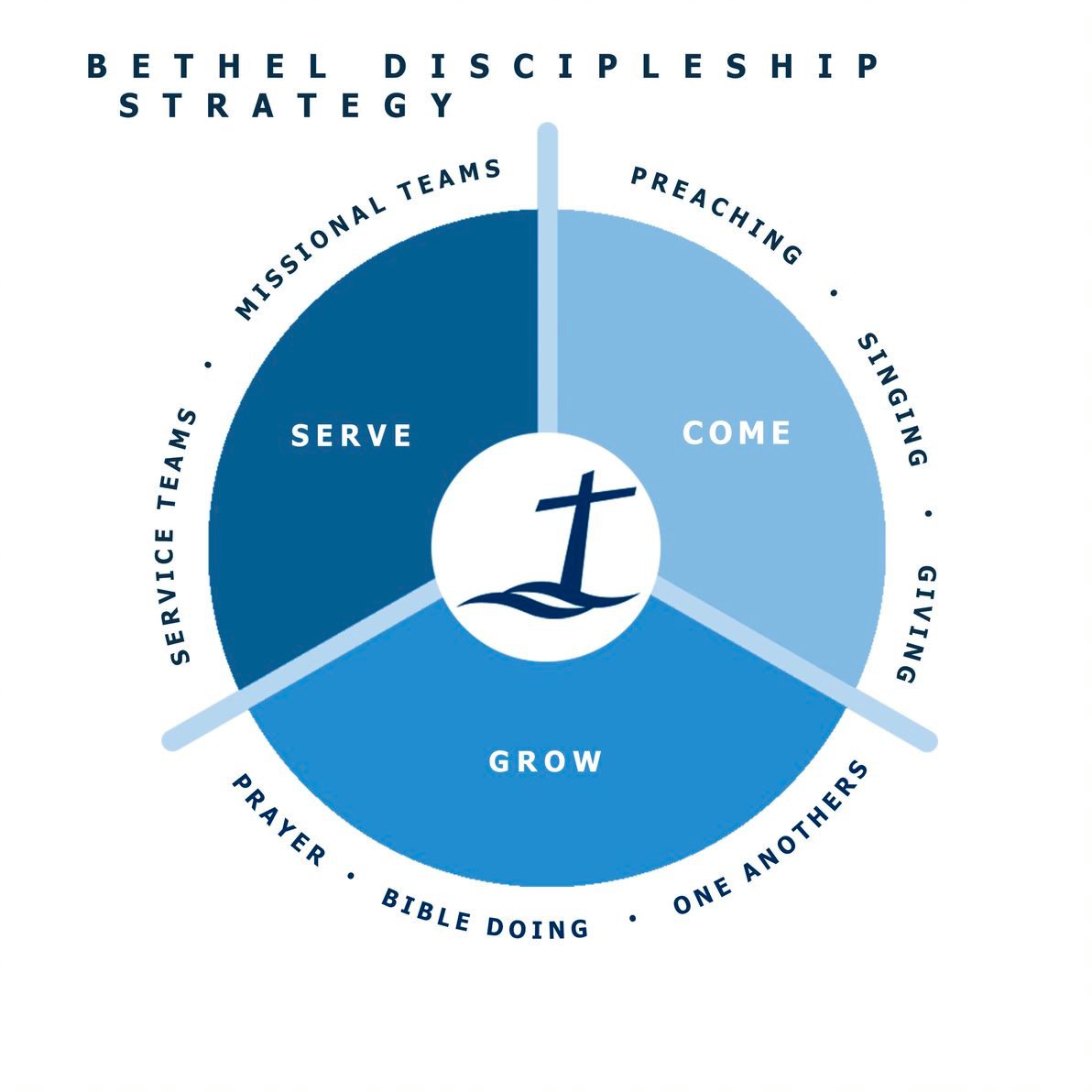 Sin Makes You Stupid (Rev. 9:1-21)
Bethel Church | Jackson, Michigan | Ken Pierpont, Lead Pastor | January 17, 2021 AM
[Slide: Sin Makes You Stupid] Introduction: I have noticed: When people go through trouble/tribulation they move toward God or away from God. Loss of job. Financial Hardship. Divorce. Difficulty with child. Death of child. Illness. Death of parent. --We will see that today in the Tribulation It is a horrifying thing to move away from God.
[Slide: Judgments in Revelation] Chapter eight ends with an eagle/angel warning of three woes--they are fifth, sixth, and seventh trumpets. In chapter 8 the Seventh seal is opened and within it are Seven Trumpet Judgments. With the first four Trumpet Judgments great harm comes to the earth. In chapter nine we have the fifth and sixth Trumpet Judgments. The last Trumpet Judgment will be in chapter 11. The last three Trumpet Judgments will move from the earth to the people of the earth with demonic intensity and they are called three woes. I will warn you. It is terrifying. (Repeat last paragraph)
You will see two horrifying waves of judgment today. Read Rev. 9:1-21.
God's Control: even the chaos on earth is controlled from heaven.
(1) the Angel sounded (the trumpet) then the judgment came
(1) the fallen angel was given the key to the bottomless pit
(3) the locusts were given power
(4) they were commanded not to harm...
(5) they were not given authority to kill...
(13) Sixth judgment comes only after Angel sounds trumpet
(14) ... release the four angels... who were bound
(15) ...four angels had been prepared… (God's sovereignty)
I. The First Woe/The Fifth Trumpet. (9:1-12) Millions Tormented.
A "star" falls from heaven… (1-2) "He" is given the key to the bottomless pit. This could be a powerful angel or Satan Himself…
This bottomless pit also known as the abyss is the place where some of the fallen angels or demons are confined after the Fall of Satan and his demons… He is given a key to the Bottomless Pit. It is mentioned three more times in this chapter and four more times in Rev. It is not to be confused with the Lake of Fire mentioned in Rev. final end of Satan
Isaiah and Ezekiel. Many Bible students see a poetic illusion to the fall of Satan in the descriptions of the fall of the King of Babylon in Isaiah 14 and the King of Tyre in Ezekiel 28. The descriptions in those passages must be referring to more then the mere fall of human kings.
Jesus when encouraging the 70 that he sent out that they had authority over demons said; "I saw satan fall like lightning from heaven…" When Jesus was casting the demons out of the Maniac of Gadara they begged Him to to send them to the abyss… (Luke 8:31)
Jude said; "…the angels who did not keep their proper domain, but left their own abode, He has reserved in everlasting chains under darkness for the judgment of the great day…"
Peter said; "…God did not spare the angels who sinned, but cast them down to hell and delivered them into chains of darkness, to be reserved for judgment…" (2 Peter 2:4)
Reminds us of the prophecy of Joel. Locust invasion. Judgment is now coming in waves.
Creatures From the Pit Torment Men. (3-5)
Smoke and hideous creatures pour out of the smoke from the pit. They physically and spiritually torment people who do not have the seal of God on them.
Caught in Demonic Crossfire. So Satan or a Demonic being who has fallen is given the keys to the Bottomless pit where demons have been straining at their chains for untold centuries and they unleash their fury on the earth and its inhabitants… Mark Hitchcock puts it like this… "Add to this the fact that in Revelation 12 Satan and his fallen host are cast down from heaven to the earth. The earth will be caught in the demonic crossfire as Satan and the fallen angels are cast from the atmospheric and divine heavens above down to the earth, and the demons from the abyss below are dredged up to the earth. The earth will literally be teeming with swarms of dreadful demonic beings. It will be an Auschwitz-type of experience for those who must endure it. The diabolical forces from both heaven and hell will be unleashed to practice their unimaginable atrocities upon mankind. Revelation 9 reveals that in the last days, the earth will be invaded by a force of "aliens" unlike anything man could ever concoct in a special-effects lab."
—The Reaction of People on Earth: (6) They want to die but can't.
—The Creatures Described. (7-10) Terrifying grotesque appearance...
ïLike horses
ïcrown like gold
ïfaces like men
ïhair like women
ïteeth like lions
ïbody armor
ïmove like chariots with loud intimidating noise
ïtails like scorpions
ïHeads: crowns like God
ïFaces: like men
ïHair: like women
ïTeeth: like lions
ïBreastplates: like iron
ïWings: like chariots… sound many horses
ïTails: like scorpions
—Their Leader Named. (11) Hebrew name: Abaddon, Greek name: Apollyon, English name: Destroyer. If the being in vs. 11-12 is the same angel it is probably not Satan, because he is not associated with the Bottomless Pit until he is cast into it later. His true nature is revealed. He wants to torment and to destroy. If you do not yield to God you will eventually be under the power of the one who wants to kill, steal, and destroy. Liar, Murderer, Thief, Tormentor.
II. The Second Woe/The Sixth Trumpet (13-21) Billions Die
Release the four angels. They were probably demons. Un-fallen angels are never said to be bound. As in Job, demons are under God's control. These four demons long bound are released... to kill... the demonic hordes are eager to inflict pain and spiritual agony upon men and women on the earth. This is not a human force but a supernatural one 200 million-strong.
The Army Described. (17-19) …red, blue, yellow breastplates, horses with heads like lions, out of their mouths fire, smoke, brimstone. A third of mankind are killed. Their colors may be symbolic of the gases and fires of hell--fire, smoke, brimstone.
Do we understand each and every symbolic possibility-no, but what we do understand should put the fear of God in us. It is clear that there will be a great demonic judgment during this time and an opportunity for those who survive to repent.... what would you do? I think I would repent!
The Reaction of the Survivors. (20-21) They refuse to repent.
What scares you? Satan would love to distract us and get us to fear the wrong things. Fear men. Fear unpopularity. Fear poverty. Fear aging. Fear loneliness. Here is what we should fear--we should fear God and we should fear the progressive bondage of our own sinfulness.
Five Representative Sins Listed:
FALSE RELIGION. false gods
DISREGARD FOR HUMAN LIFE. murders (abortion)
DRUG AND ALCOHOL ADDICTION. sorceries--drugs, drunkenness, etc.
SEXUAL IMMORALITY, CONFUSION, AND PERVERSION.
DISHONESTY AND CRIME. theft-dishonesty
They harden their hearts! God-deliver us from hard hearts…
1 Tim 4:2 "..their consciences are seared as with a hot iron…"
1 Thess. 2:5-11 esp. "…God will send them a strong delusion, that they should believe a lie…" [turn and read 5-11 time-permitting.]
Sin by its very nature is addicting. It becomes habitual.
Sin will make you stupid. (Sampson and Delilah)
Sin will make you stubborn
Sin will make you a slave
Sin will make you suffer… forever. (eternal, conscious torment)
Jesus is Coming in Judgment. We should save people out of the fire while we can. Jude 15, 23 Behold the Lord comes with ten thousands of his saints, to execute judgment on all, to convict all who are ungodly among them of their ungodly deeds which they have committed in an ungodly way and of all the harsh things which godly sinners have spoken against Him…. (23) …save them with fear pulling them from the fire hating even the garment defiled by the flesh…"
Conclusion: Will you move toward the Lord this morning. How?
Covid and Unrest!
God is using this time—Satan is using this time
can't you see it?
[story] powerful story of returning to God.
Repent and be saved
Return to God over and over again... Live with a spirit of repentance all the time and you will grow in holiness and affirm the genuineness of your salvation.
Believers, listen. We must be sober. We must not trifle. We must not say we love the Lord and live like we are in love with this world and our sin. We must move toward God and away from sin when trouble and tribulation come.
Unbelievers. You have been warned. Flee the wrath to come.
When trouble comes people move—closer to God or further away
When trouble comes people move—into more and worse sin or into deeper repentance and freedom from sin.
Please Lord don't let this nightmare come true—tell me there will be a happy ending… (Books with Happy Endings) These are bad chapters but they are middle chapters.. the movie ends here for some, but this does not have to be the end for those who move away from sin and toward God (Repent)… Happy Ending
Pray and invite people to come forward and pray
Books about bookshops always have a way of making me smile. I especially love books about the power of storytelling, and The Bookshop on the Corner does not disappoint. Nina loves her job as a librarian and considers finding the perfect book for each reader her life's passion. But when her job at a library in a hectic city is taken away, she decides to change her life. Nina buys a van, turns it into her own mobile bookshop, and drives to a sleepy village, where she's determined to change the lives of the villagers one story at a time. Colgan introduces an amazing cast of characters that you're bound to fall in love with as much as I did. The Scottish Highlands is such a great setting for this book that you'll realize it's full of magic and adventure, just like Nina.
Our Book ended happy, but not Heidi's…yet Oh God give Heidi some happy chapters.. please. Success. Love. Joy. Happiness. Jesus longs for your happiness… eternal joy
Prayer Request
Upcoming Events